Brand new coloring pages for Spooky Season are here! First up is Scruffy Pup dressed as a scarecrow.
I have to give a shoutout to the wonderful Clip Studio Pro brush set by Ron Chan called Double Outline, which you can get on his Gumroad shop. It made drawing flannel patterns and hat details so much easier!
The other Halloweenie Themey coloring page this week features TeaCup Pup and Corgi Pup enjoying candy.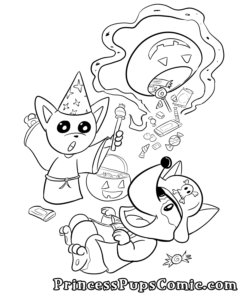 However, make sure you unwrap your candy before eating it and please don't try to pour it all in your mouth at once! (That's my Mom voice coming through). The costumes that TeaCup Pup and Corgi Pup are wearing are from the first Halloween comic that I drew with the pups. It's still one of my favorite comics 🙂