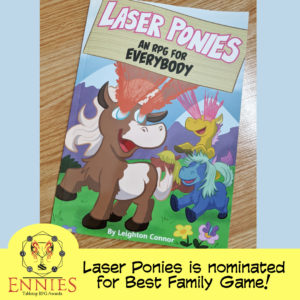 Last year, I illustrated the cover and lots of interior drawings for "Laser Ponies: 2nd Edition". Laser Ponies is a tabletop RPG where you play as magical, happy ponies who have tons of adventures…and also can shoot lasers out of their eyes.
Doing artwork for this new edition was super fun, and now it's been nominated for an Ennie award for Best Family Game!
If you enjoy reading Princess Pups and enjoy Table Top games, you'll probably really enjoy Laser Ponies! It has background on the ponies, their powers, sample ponies so new players can start playing quickly, and advice for adjusting the game for younger players.
You can buy a copy of Laser Ponies as either a PDF or a lovely softcover print edition over on DriveThruRPG! And if you've enjoyed the game, voting for the Ennies is open now until July 24th!